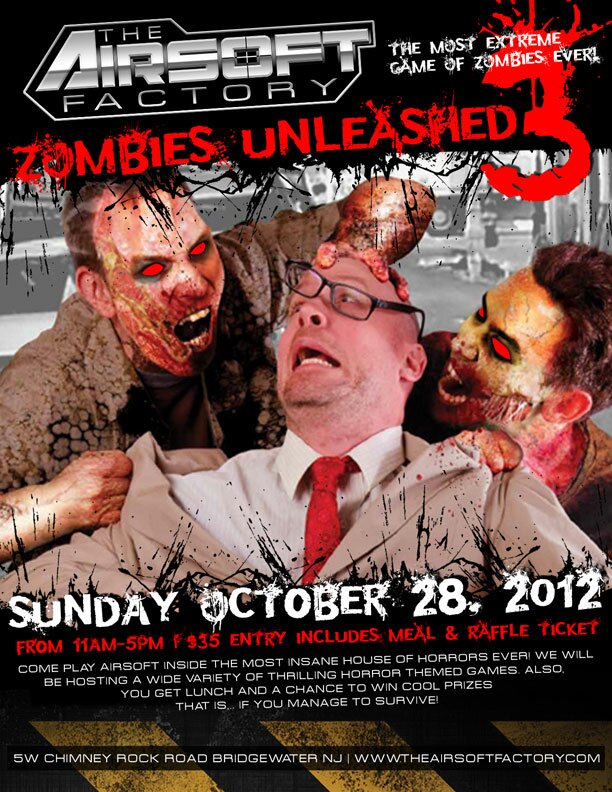 The Airsoft Factory Presents…
Zombies Unleashed 3
Sunday October 28, 2012 from 11am-5pm EST
Location:
The Airsoft Factory. 5W Chimney Rock Road. Bridgewater NJ
Registration Fee:
$35 Game Day Rate Admission includes Lunch & Raffle Ticket
Scenario:
Biological warfare is the deliberate use of disease-causing biological agents to kill or incapacitate humans, animals or plants as an act of war. In this case, a weaponized virus has been realeased into the streets of Godfather City. Systematically turning citizens into mindless flesh eating zombies! There are only a handful of survivors left alive to survive in this living hell. With no authorities left to help these survivors, they have no choice except to escape the zombie infested streets of Godfather City.
However, FEMA has contained Godfather City and it's inhabitants into a Quarentine Zone. The government has commissioned a group of mercanaries to enter Godfather City to "cleanse" the zombie menace and eradicate any survivors attempting to escape and spread the zombie virus outside the quarentine zone. Killing innocent civilians for the greater good and health of our country. With each passing moment, the Zombie menace grows more stronger. In the end, who will be the last faction standing? Will the survivors be able to escape the horrors of Godfather City and be able to lead normal lives again? Will the Mercenaries be able to contain the zombie menace? Or will we all be doomed to roam amongst the walking dead? The Zombie Apolcalypse is upon us!
Zombie Rules
– If a Zombie tags a player anywhere with both hands, that person becomes a Zombie. Players must holster their weapons and proceed to act like a Zombie.
– Zombies can NOT use guns, but melee weapons are acceptable.
– Zombies are allowed to run!
– Zombies must get shot three times before they are incapacitated.
– After a Zombie gets incapacitated, the player must remain on the ground for 30 seconds before they are reanimated. Zombies are allowed to crawl after their prey during their incapacited state.
– Players are NOT allowed to shoot Zombie players in the face/head area. Deliberate violators will be removed from the arena without a refund.
– Zombies can NOT act like they're survivors, then surprise them with a Zombie attack. That's super lame….
Weapons Requirements:
FPS Limits=350 FPG with .20g BBs
Melee Weapons such as nerf swords, toy chainsaws, etc are acceptable.
Zombies may NOT shoot guns but they are able to use melee weapons.
Timetable
11am- Registration/ Chrono/Rules Briefing/Open Skirmish
12pm- Zombies Unleashed
1pm- Zombies Unleashed
2pm- Lunch Break/ Prize Raffle
3pm- Last Man Standing
4pm- Fight for the Cure
5pm- Wrap Up